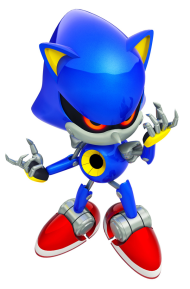 Welcome to the Metal Sonic Wiki
Edit
Metal Sonic is the popular robotic counterpart of sonic, this wiki is about Metal Sonic and any Robotic copy of any EXISTING sonic character. Note that Official artwork is not required, though preferred, good quality fan artwork is accepted on pages.
Our Topic
Edit
Metal Sonic is a Robotic version of Sonic so this wiki is about Robot versions of Sonic Characters.
Latest activity
Edit
Ad blocker interference detected!
Wikia is a free-to-use site that makes money from advertising. We have a modified experience for viewers using ad blockers

Wikia is not accessible if you've made further modifications. Remove the custom ad blocker rule(s) and the page will load as expected.