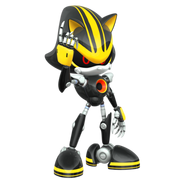 Metal Sonic 3.0
is a Metal Sonic who comes from the future. He made his first and, so far, only appearance in
Sonic Rivals 2
, the sequel to the PSP exclusive Sonic game,
Sonic Rivals
.

He was built by and serves Eggman Nega and is Metal Sonic's main Rival.
He is also playable as a palette swap of the original Metal Sonic.
Near the end of Sonic Rivals 2, he acted as a decoy while Eggman Nega was awakening the Ifrit. Despite it's superior technology it was destroyed by Metal Sonic
Alternate Counterparts
Edit
Ad blocker interference detected!
Wikia is a free-to-use site that makes money from advertising. We have a modified experience for viewers using ad blockers

Wikia is not accessible if you've made further modifications. Remove the custom ad blocker rule(s) and the page will load as expected.